Just wanted to let you know that we are still here, hard at work.  Hard to imagine where the last few months have gone.  It really becomes a blur.  Right now we are in the last few weeks of the school term.  We have been involved in several big events as well as the teaching and administration load that we have.  One of these big events, coming up at the end of the term, is our annual Pinewood Derby which is a really fun event.  It is the 40th year that we have held this event so it is a pretty major deal for the students of the school.  About 120 entrants (and of course Todd) are busy making their cars ready for race day.  Todd is in charge of it this year and it is definitely a major deal to pull off with lots of little details and the big track to get ready.  It is really fun though seeing the creativity of the kids and staff who make cars for the event.  We will be following up with more details about this term on our blog.  Right now we are just able to maintain getting up in the morning and falling into bed at night.  Hard to believe it but life is good.
Speaking of cars we are kind of thinking of getting one of our own.  First, we have to say that we know that God has a plan and it has been a long time here without one after having a really bad experience with a mechanic and a vehicle that we had for less than a year – a long story that can be told later – wiping out our ability to even consider getting a vehicle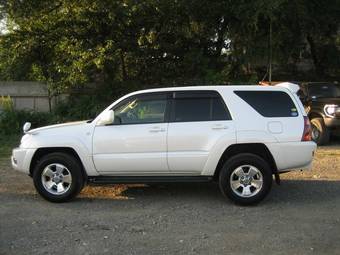 again until now.  It has taken a long time for funds to build to the point that we can even consider the possibility.  People like yourselves have been contributing amounts as they can to a vehicle fund with AIM and we have been saving a small amount of our monthly support for the past seven years to be able to get to this point.  Right now we have the opporunity to buy a reliable 2004 Toyota Hilux Surf for $21,000 that has been well taken care of.  Up to this point in time we have saved a combined $13,500 and are praying that God will provide the $7500 remaining.  We would like to ask if you would join us in praying for this remaining amount.  We know that God has a plan for us in the area of a vehicle.  We have been here for such a long time without one that we do begin to wonder just how much more patient we need to be or if we are meant to have one.  We continue to pray for wisdom.  We know that it would open up a lot more opportunities to visit students and their families which has been a goal of ours that just have not been able to do.
On a continuing note:  Thank you for continuing to pray about the situation in Kenya and the incident that happened at the Westgate Mall.  We, like you, have not heard anything more other than accusations and video proof of the Kenyan soldiers looting the mall several days after they figured that the perpetrators had escaped.  There was a lot of damage done by the army that is figured to cover their activities.  So many shop owners are mystified as to why their shops were cleaned out of all stock by the terrorists and yet there is absolutely no one in custody over the crimes.  We have to admit that we are too.  It does not give us a lot of trust that the law enforcement people are actually here to protect.  Please continue to pray for these things to be resolved and that the army and police will do all that they can to create a different perception about themselves.
We would like to thank you for partnering with us in either prayer or finances.  We are so thankful to be able to work with these students at RVA.  We pray that everything is going well for you.  If you are interested in helping us with funds for a vehicle please contact us and we will help you be able to do that through AIM for a charitable receipt.